There's no doubt about it; air conditioning repairs are not the most exciting to-do list item. Especially if your air conditioner breaks down on the hottest day of the year. Cytech Heating & Cooling L.C. understands this whole-heartedly and wants to ensure that you and your family are comfortable year-round. We're here to reduce your worries about broken air conditioning systems and any consequences they cause.
Our experts are trained, NATE-certified and licensed in managing everything your air conditioner might alarm you with, and in handling any make or model. No matter the unit or trouble, we can tune and repair it. You never know when your air conditioning might decide to sputter or suddenly stop working all together, so let the Cytech Heating & Cooling L.C. experts ease your mind and repair your unit rapidly and proficiently so you can get back to living in comfort with your family.
There comes a time, however, when most homeowners begin to debate if the air conditioning repair is worth it, or if it's time to find another system. Our rule of thumb is usually when your maintenance costs equal about 50% percent of the value of your system, then it's time for a replacement. The older your air conditioning unit is, the bigger risk you have of regular problems – that's why we also tell our Rio Grande Valley customers that 12 years may be the perfect time to exchange instead of continuing to service an air conditioning system.
If you want to get an up to date air conditioner, we also provide AC installation.
When you're in contact with us, contemplate a yearly AC maintenance plan that may help you keep clear of future malfunctions. We can advise how often you need air conditioner service.
Ready to get started troubleshooting your system? Try our fast tips below. Many of these procedures don't require any HVAC knowledge.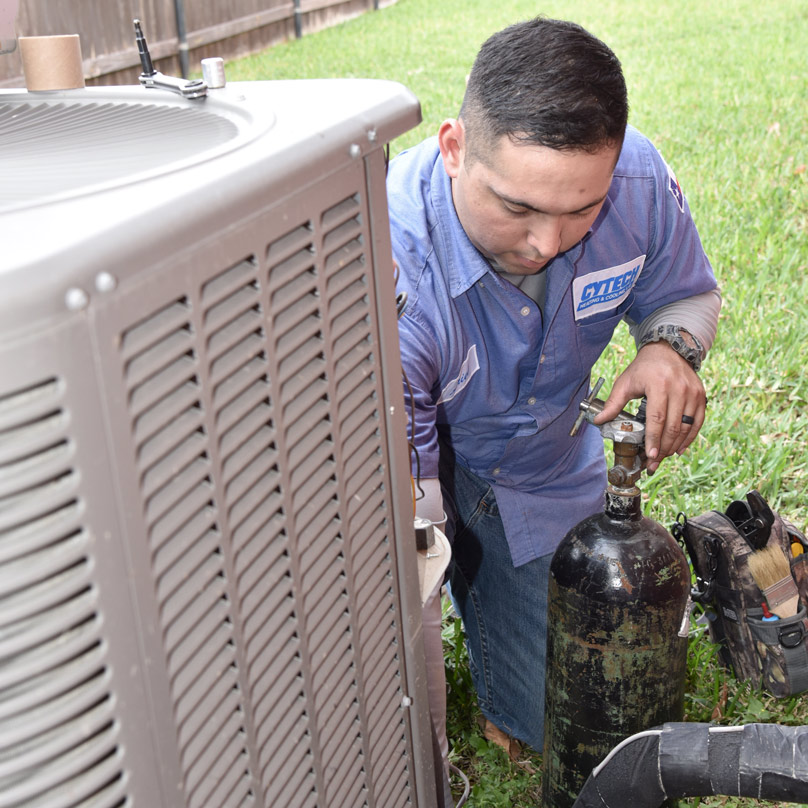 New Air Conditioner Advantages
If you find you might actually require an air conditioning replacement instead of just a repair, don't fret because Cytech Heating & Cooling L.C. is still there to help. Our wide selection of high-quality, efficient air conditioners are the best in Rio Grande Valley and are sure to meet all your comfort needs while not breaking the bank. Replacing your air conditioning offers a lot of other advantages too, such as:
Lower energy expenses – you can save energy by using more up-to-date and efficient air conditioning systems. When they run more proficiently, they don't have to work as hard to keep you comfortable.
Tax credits and incentives – some air conditioners are suitable for tax credit or incentive programs due to their high quality. Ask your Rio Grande Valley pros for details.
Improved home air quality – the more up-to-date the air conditioner, the better the technology. The latest Cytech Heating & Cooling L.C. air conditioners can team up with Healthy Climate® products to keep your home's indoor air that much more nourishing and cleaner.
Quieter operation – with new SilentComfort™ technology, you can't even recognize when your system is on and running anymore, certifying a quieter and comfortable home.
Request Pro Air Conditioner Repair Now
When you require air conditioning service quickly, contact the HVAC repair experts at Cytech Heating & Cooling L.C. at 956-630-3522. We'll quickly identify the problem when your equipment won't work or provide enough chilled air.